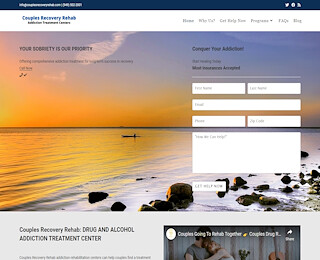 Couples Recovery Rehab is a top-rated rehab for couples with comfortable fully-private rooms, upscale spa and salon services, and a high-end gym. Here are the top benefits of joining our drug rehab for couples:
1. Therapies that promote healing from a shared trauma
Individuals in a romantic kinship or a married relationship often share trauma, bitter life experiences, loss of loved ones, financial losses, etc., which often becomes their cause of addiction. We help them process their traumatic memories using therapies such as cognitive-behavioral therapy, medication-supported treatment, contingency management, motivational enhancement therapy, and community reinforcement approach. Using evidence-based psychotherapies, we address the underlying mental health issues and equip patients with critical coping skills to manage stressful situations after rehab.
2. Relationship counseling 
As a part of our couples rehab program, we engage clients in relationship counseling sessions, which provide them with a safe space to address concerns and resolve conflicts. Our behavioral health experts focus on resolving couple-related conflicts, developing communication skills, setting and enforcing boundaries, accountability, and couple goals. Our couples addiction treatment promotes mutual trust and creates accountability between both parties in a relationship.
3. Modern amenities
While recovery from addiction is no easy task, we try to make the process a fun and rewarding experience by offering patients with modern amenities and engaging them in recreational programs. Our couples drug rehab offers patients semi-private and fully private bedrooms, access to a fully-equipped gym, daily catered highly nutritious meals, spa and salon services, and several other upscale amenities.
We make our clients' journey towards sobriety more pleasant and enjoyable with weekly movie nights, gaming parties, group therapies, and other fun-filled events. Besides, our team of experienced and compassionate staff offers around-the-clock medical care and plays an integral role in helping patients embrace sobriety. 
4. Client-centered couples addiction treatment
Unlike other drug rehabilitation treatment for couples, we create customized recovery plans for each of our clients. Our client-centered treatment approach allows us to identify and address the underlying cause of addiction in patients. Our personalized treatment approach educates and equips patients with critical life skills, defense/coping mechanisms, and breathing exercises, which help them overcome triggers and cravings in the long term. Besides, our tailor-made treatment plans help patients attain comprehensive and sustainable recovery from addiction and improved mental wellness. 
5. Excellent ongoing care programs
Ongoing care programs play a critical role in preventing relapse after rehab treatment. As one of the leading drug rehab centers for couples, we keep a constant check on our alumni patients with our aftercare programs, such as counseling, 12-step meetings, behavioral therapies, etc. Our continuing care programs strengthen recovering addicts' commitment to sobriety and help them maintain sobriety in the long term.
Contact Couples Recovery Rehab at (949) 502-2001 to speak with an addiction treatment specialist. We are the #1 rehab for couples in Orange County with exceptional residential, outpatient, intensive outpatient, and aftercare programs. Join Couples Recovery Rehab to embark on a life-transforming recovery journey.
Rehab For Couples